Medicine Ways VI
Entering the Cave
Valerie Eagle Heart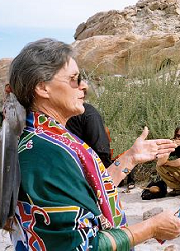 The Medicine Wheel and the Journey through the year brings us to the point of the North.  In the Teachings I've been given, the North of the Wheel is the Sacred Place of the Adult and Adulthood.  Here lives our Philosophies and Beliefs, Responsibility, Balance, Peace and Harmony. 
These are tall and powerful words, which mean what?  For each of us, these words carry an energy that is described by our personal experiences and perceptions.  What we choose to believe can change from moment to moment.  Each new experience, each new bit of knowledge and ah-ha moment bringing us to what we "believe" is a better Belief – until the next moment, hour, day, week or longer brings us to a new understanding of a better way of believing!
Within the Star Maiden Circle there is a simple but profound Teaching about Responsibility.  (This Sacred Circle is a penetrating tool for understanding the psyche. It is our human process as seen in a circle and by facing each direction we gain illumination and understanding of life issues, and compassion for our selves, in our life struggles.)  The question is posed, "What are we responsible for?"  The answer given; "We are ultimately responsible ONLY for Peace, Balance and Harmony within our own Sacred Circle." 
Years ago, when I was first given this Teaching, I thought how selfish it sounded and felt.  As I walked each of the Teachings of the Medicine Wheel, awake and alive within my Heart, I came to understand that each time I accepted responsibility for Peace, Balance & Harmony "within," I became just a little bit better of a Human Being.  Which, of course, in my Beliefs, only serves to create a better world for All!
The North of the Medicine Wheel teaches us about Going Within.  It is in this Sacred Place that we find and know Peace. 
In the Winter we enter the Cave.  We crawl in, filled with the experiences, lessons, challenges and more from the year we have just lived.  We are allowed to take these things and more into the Dreamtime.
We sort it all out, keeping what has worked, letting go of what did not.  We forgive ourselves for our human short-comings, healing our Hearts and Spirits for our Re-birth in the Spring.
Blessings to All for Good Dreaming!
In Peace, Harmony & Balance
Valerie Eagle Heart