Rick Hanson, Ph.D.
……………..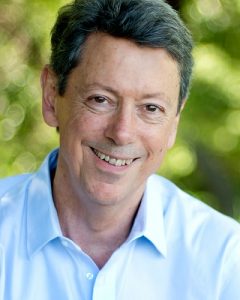 Rick Hanson is a psychologist who has written and taught about the essential inner skills of personal well-being, psychological growth, and contemplative practice – as well as about relationships, family life, and raising children.
He grew up in a loving and stable family, mainly in the suburbs of Los Angeles, entered UCLA at 16 and graduated summa cum laude in 1974 (and was honored to be one of four "outstanding seniors" chosen by the UCLA Alumni Association).
Over the next several years, he founded a successful seminar company, worked for a mathematician doing probabilistic risk analyses, and did management consulting.  After fulfilling the course requirements for a Masters in developmental psychology at San Francisco State University, he received a Ph.D. in clinical psychology from the Wright Institute in 1991, with a dissertation titled, "Gratifying control: Mothers offering alternatives to toddlers."
His clinical practice includes adults, couples, families, and children, as well as psychological assessments of children and adults related to temperament, school performance, and educational and vocational planning.  He has worked as a school psychologist for several independent schools, and has given many talks to meetings of parents or child development specialists.  For many years, he served on the Board of FamilyWorks, a family resource agency in Marin County, California, and chaired it  for two years and is a former Trustee of Saybrook University.
Rick has also authored or co-authored four books.
In 2002 he co-authored, with his wife, Jan, who is an acupuncturist specializing in clinical nutrition, and OB-GYN Ricki Pollycove, M.D. Mother Nurture: A Mother's Guide to Health in Body, Mind, and Intimate Relationships, which shows how to support the long-term health, well-being, and intimate partnership of mothers.
In 2009, he co-authored, with Rick Mendius, M.D., Buddha's Brain: The Practical Neuroscience of Happiness, Love and Wisdom, which shows readers many effective ways to light up the brain circuits that relieve worry and stress, and promote positive relationships and inner peace.
In 2011, he wrote Just One Thing: Developing a Buddha Brain One Simple Practice at a Time, which presents 52 powerful yet down-to-earth ways (practices) to build up a "buddha brain" for more peace of mind in stressful times, greater inner strength and confidence, and an unshakeable sense of contentment and worth.
His latest book, Hardwiring Happiness: The New Brain Science of Contentment, Calm, and Confidence, was published in October 2013 and became a New York Times bestseller.  It shows you how to tap the hidden power of everyday experiences to change your brain and your life for the better.
He founded the Wellspring Institute for Neuroscience and Contemplative Wisdom.  The Institute publishes the monthly Wise Brain Bulletin, hosts the www.WiseBrain.org website and sponsors the Skillful Means website (a growing encyclopedia of psychological and spiritual methods).
His personal interests include rock-climbing, sailing novels, travel – he has lived one year in Finland and one in Germany – and having fun with his family and friends.  You can reach him through his administrator, by filling out this form.  You can also get to his outstanding FAQ page from there.  It's an excellent resource.