The Sabians Say V
The Sabian Symbols at the 2015 Winter Solstice
Lynda Hill


with Johnny Mirehiel



………………………………………………….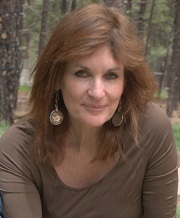 Last week Johnny posted his projections for the astrological New Year based on his Mundane reading of the 2015 Winter Solstice chart.  (It is recommended that, if you haven't already read that piece, you do so at this time.)  This week he is joined by the World's best known interpreter of Elsie Wheeler and Marc Edmund Jones' Sabian Symbols, Lynda Hill.  
Applying the Sabians to the Solstice chart we find them, as always, spot on.  So, beginning with the Sun, here's what the Sabians say about it.  But first, here's that Solstice chart again:
….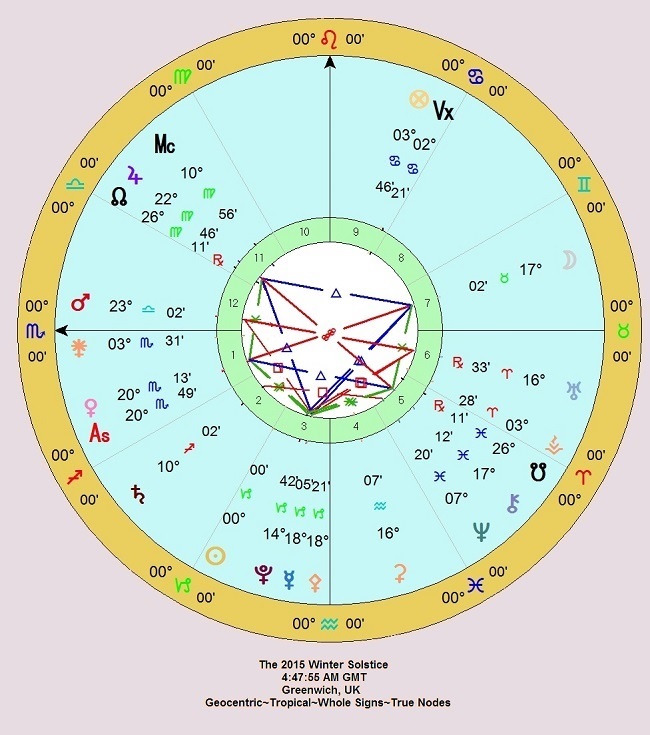 The Sun symbolizes: One's core center, spirit, heart, issues to do with father, men, self, ego, your male side. How you radiate your sense of being.  What others see, how you are recognized or remembered, sense of identity and connection with male energy – yours and others.
(Capricorn 1)  AN INDIAN CHIEF CLAIMS RECOGNITION AND POWER FROM THE ASSEMBLED TRIBE
This shows the necessity or the ability to be strong, stand tall, be in charge and command respect.  There are leadership issues that need to be embraced or addressed.  Sometimes we need to rise to the occasion and take charge and this may lead to a struggle for control; you may have to remind those around you that you can be trusted to make decisions or lead others.  Those above you may remind you of your lesser position in the scheme of things – are some jealous of your achievements and power?  
Remember that in the Solstice chart Johnny explicated last week, the Sun was basically
unaspected.(1)  This underscores its unsupported, "go-it-alone" stance on its path through
the volatile Middle East sector of the world map.  The Sun's significance, in this respect,
should receive extra attention in light of the Sabian's Quest Degree.  
The Quest Degree: The degree after a planet or a point.  It is something we often need to grow towards, to integrate, to realise, to accept into our lives perhaps.  It can be something that comes easily, or, it can be quite a lesson or a challenge.  For those who understand astrology, you can see the Quest Symbol is somewhat like the Moon's north node.
The Quest Degree of the Sun is Capricorn 2:  THREE STAINED-GLASS WINDOWS IN A GOTHIC CHURCH, ONE DAMAGED BY WAR (emphasis Johnny's)
This shows the need to have a strong sense of self, a strong constitution or a clear sense of belief in the goodness of the world.  This pictures the need to stay strong under the barrage of bombardment.  One of the three corners of unity, in this case the one of love, is damaged and separated by the aggressive nature of mankind.  With the shattering (the "Damage") of the "Window," there is often a loss of faith, hope and trust. Acceptance of love can lead to a healing on many levels. As Leonard Cohen says "There is a crack, a crack in everything. That's where the light gets in."
………………………………………………………..***************

Considering the emphasis in the Winter's Solstice chart on a very active Mercury, which receives aspects, within those two troublesome Kite Patterns, in particular from Jupiter, the Moon, Mars, Venus, Chiron and Uranus, as well as the close conjunction with Pluto and the partile (exact by degree) conjunction to Pallas, let's take a look at that thus important Sabian degree.


Mercury symbolizes: Mind, thought, communication, memory, expression, intelligence, news, exchanges, chatting, conversations, short journeys, connections with others, telephones, emails, siblings, neighbors, the reasoning mind. Day-to-day activities. cars, keys, and small animals
( Capricorn 19) A CHILD OF ABOUT FIVE CARRYING A HUGE SHOPPING BAG FILLED WITH GROCERIES
This Symbol shows having to "Carry" heavy loads, to shoulder responsibilities, do chores and jobs and help others, sometimes because there's no one else who can or will do it.  Often, the "Child" gets these responsibilities because they are the one who others know is going to take it seriously, completing the task, taking care of details.  You may feel that you have been burdened with responsibilities beyond normal expectations and possibly beyond your capability.  Despite being keen and enthusiastic, you must be careful not to try to take on too much, or do too much, or too quickly.
The Quest Degree for Mercury is 20 Capricorn: A HIDDEN CHOIR SINGING DURING A RELIGIOUS SERVICE

This Symbol shows singing, playing or enjoying music and, also, to be able to pick up on things that others don't see or hear. The "Hidden Choir" brings songs, or sounds, with messages of salvation and faith.  The fact that they are hidden shows something coming out of the background, something subtle, something others may miss. It can be important to be receptive to your feminine, intuitive side, as there are messages to be heard. Realize that you are not alone; there are other people who feel the same things. Watch out for mental noise. (emphasis Johnny's)
………………………………………………………..***************

The Moon symbolizes: Emotions, moods, mother, family, clan, domestic issues, relationship to home and country. Feelings, sentiments, nourishment, emotional nurturing, monkey chatter mind, lunar and menstrual cycles, clarity of emotions or lunacy. Female energy – yours and others.
(Taurus 18) A WOMAN AIRING AN OLD BAG THROUGH A SUNNY WINDOW TO GIVE IT AIR AND SUNSHINE  
This Symbol speaks of clearing up clutter, washing and purifying and bringing air and light to situations.  It often symbolizes psychotherapy and other self-help disciplines that cleanse and purify the mind, emotions and soul. There is often the need to clean out your cupboards, along with your old habits and routines.  By keeping everything in your inner self, you can cause a clutter that is restricting.  Bring these things to the outer world and see if they are still relevant in the light of day, discarding those that don't measure up. Scrubbing clean and airing out.
The Moon's Quest Degree is Taurus 19: A NEW CONTINENT IS RISING OUT OF THE OCEAN
This Symbol shows the rising of a new place, a place to be, a new country or somewhere to strive for a new life.  It implies that you can find that extra spark to create a brand new, original opportunity.  This pictures the beginning of something that holds enormous potential for the future.  There is much work to be done developing this into something fertile and productive.  A whole new field of activity is coming to light.  What you have done in the past has led you to this, but these new beginnings need to be met with a fresh sense of purpose and possibility.
.………………………………………………………..***************

Jupiter symbolizes: The big picture, expansion, exploration, aspirations, religious and philosophical ideals, issues to do with traveling, foreign lands, people and traditions, culture, education, generosity, luck, abundance, support, optimism. Insight through knowledge and wisdom.
Jupiter is on Virgo 23: A LION-TAMER RUSHES FEARLESSLY INTO THE CIRCUS ARENA
This Symbol implies having the talent, skills, training and discipline to be able to tame wild energies like those of a "Lion."  It is not that you need to extinguish powerful emotions and energies, but by skillfully manipulating what's going on, these very wild emotions and energies will perform in a way that makes you the victor.  Self-discipline and mastery are needed, along with being well rehearsed for what you are doing.  There's a need to put fear behind you and to go for it – perhaps rushing in where angels fear to tread.  The question is: How trained are you and prepared for the consequences?  
Now as the "lead planet" in the Winter Solstice chart's overall "Locomotive" pattern, Jupiter
also deserves our attention.  Remember also that this huge gas giant is a key element in
those two problematic Kite Patterns.  This seems to be especially important considering the
Quest Degree for this placement.
Jupiter's Quest Degree is Virgo 24: MARY AND HER WHITE LAMB
This Symbol can show purity of motive and pure and wonderful relationships and friendships.  However, it can also point to dependence or codependence where people can't stand to be separate.  Hence, relationships may need to be assessed to see how healthy they actually are.  The need for constant reassurance that everything is OK can be wearing and put a strain on those involved.  Keeping a sense of innocence and purity will lift you up and out of any problems.  Be loving and be there for others, but don't let things get out of hand as you could find yourself sewn at the hip with another and not able to get any free time for yourself.  
However, the fact that Jupiter is also one of the four elements of the Mystic Rectangle,
along with  the Moon, Venus and Chiron, must be considered as well.
………………………………………………………..***************

Venus symbolizes: Relatedness, cooperation and what attracts you.  The experience of sweetness, beauty or delight. Social interactions, love, friends, how you reach out to people.  Feminine persona, relationship with mother and females.  Money, possessions, sense of values.
Venus, in a partile conjunction with the Ascendant, stands in high relief in the Solstice
chart.  Any Planet, in any chart, and in such an exact conjunction, always takes on
powerful proportions. Here, there is a desire for peace and harmony, despite this
favorable but "rose colored glasses" point of view.
Venus is on Scorpio 21: OBEYING THEIR CONSCIENCE, A SOLDIER RESISTS ORDERS
This Symbol shows someone whose "Conscience" stops them from following a certain course of action, staying with a project or relationship when they'd rather leave, or, someone not prepared to compromise their values to do something that society says that one must do.  You may find yourself in situations where what you are expected to do is against your inner values, your conscience or how you see your future unfolding.  You may have to make the difficult choice between allegiance to duty or your own inner truth.  True freedom can only be found when one faces situations with a sense of integrity and preparedness to face the consequences, be they positive or negative.
The Quest Degree for Venus is Scorpio 22: HUNTERS PROTECTED BY HEAVY CLOTHING ARE SHOOTING WILD DUCKS
This Symbol implies the need for protection of those innocent or younger, smaller, or not able to protect themselves. Being an advocate for others, you can shield them from the more harmful elements of society.  One may, at times, feel that he or she is the one that needs to be protected or given shelter or in need of people declaring a ceasefire and amnesty so people can come out into the open and not be afraid to show their true selves.  Of course, there is a need for an outlet for aggressive emotions every now and then.  Doing so in groups gives this outlet, such as "Shooting Wild Ducks" some sense of acceptability. However, picking on the undefended or smaller is not right, no matter what the terms.
………………………………………………………..***************

Chiron symbolizes: Our wounds and it is known as The Wounded Healer, it also shows The Stories That We Tell Ourselves, it is where we have to focus on healing, it can show things that are out of shape or misplaced or in need of repair.
Chiron is on Pisces 18: IN A HUGE TENT A FAMOUS REVIVALIST CONDUCTS HIS MEETING WITH A SPECTACULAR PERFORMANCE
This shows hearing or delivering important messages, decrees or rules for living, making sense of spiritual instruction, seeing who's an authority worth listening to and who's not.  Seeing through false intentions or messages could be one of your objectives now.  You may need to organize and stage a display to promote, teach or disseminate, bringing a feeling of community in a common goal.  With the power to influence or sway groups of people, there needs to be a feeling of moderation and the ability to listen as well as speak.  This can, however, picture situations of hysteria or overstating one's case.  Is the audience listening?  Is the cause just?
The Quest Degree for Chiron is Pisces 19: A MASTER INSTRUCTING THEIR DISCIPLE
This shows the ability, or the need, to be a student, a "Disciple," or a teacher, a "Master."  At times you'll find yourself being either one or the other.  You may be the teacher or the pupil, but remember that it is often the teacher that learns and the pupil that teaches.  This shows taking time for the transfer of higher knowledge and wisdom.  It's also a sign to listen to your own higher wisdom.  Someone with something worthwhile to say will usually find someone eager to listen.  When you have a need to learn something, it seems that the "Master" will always appear.
………………………………………………………..***************
Mars and Uranus are two parts of the T-Square, along with our Solstice Out-of-Bounds
Mercury.   The former two have long been considered by astrologers to be "Malefics."
They can easily kick up a storm on their own, but with that OOB Mercury, well who
can tell what the three together may do?

Mars symbolizes: Drive, determination or agenda, how you get to your goals. How you express and handle anger, ambition, assertion of self and ability to step forward. The male principle, sexuality, the ability to step up to the plate when one needs to. Fight or flight.
Mars is on Libra 24: A THIRD WING ON THE LEFT SIDE OF A BUTTERFLY
This Symbol can show imbalances of many kinds; physical, mental, spiritual or emotional. Understanding and accepting fragility and differences in our self and others can give greater empathy for those who have difficulty operating efficiently in the world. When the transformation into full potential occurs, it is wonderful, however, you may feel that you are unnaturally developed or somehow lopsided in the emotive, intuitive realms. Instinct may swamp logic or logic may take from instinct or intuition. Physically, one side of your body could work more efficiently or smoothly than the other. It helps to try to regain balance and equilibrium – try finding that still space in the middle.
The Quest Degree for Mars is Libra 25: THE SIGHT OF AN AUTUMN LEAF BRINGS TO A PILGRIM THE SUDDEN REVELATION OF THE MYSTERY OF LIFE AND DEATH
This Symbol implies the ability, or the necessity, of seeing far more in simple things than most people see.  Instead of merely seeing "An Autumn Leaf," "The Pilgrim" sees the cycle of life, the seed turning into the tree, the leaves turning in the autumn, etc, etc.  There is far more to see than is first apparent.  You may have learnt much and grown tired of seeking information about life through conventional channels.  A sudden insight can lead to a whole new revelation of life and its processes.  Seeing things that others miss, look for answers in simple, everyday things around you.  They may be fleeting, but they are around you – look for the signs, they can have profound effects.
………………………………………………………..***************


 Uranus symbolizes: The unexpected, things that are individual or "different."  Charged, energetic dynamics, electricity, light, lightning bolts, sudden changes, those who live on the fringe of society.  Sudden turns and twists of fate.  Rebellion, surprises, liberation, freedom.
 Uranus is on Aries 17: TWO PRIM SPINSTERS SITTING TOGETHER IN SILENCE
This Symbol shows that quiet withdrawal might be just what you need.  However, it is easy to become isolated in conservative, albeit moral, ideas.  You may find that there is only a select, restricted group with whom you wish to associate.  There can be a quiet knowing that doesn't need a lot of words or emotional displays.  Just be wary that this false sense of security doesn't isolate you from change and growth.  Unresolved issues can lead to stunted emotional responses.  Look for opportunities to open up to new possibilities. Loosen up emotional blockages.
The Quest Degree for Uranus is Aries 18: AN EMPTY HAMMOCK
This Symbol shows issues of working hard versus taking time out to relax. If you find that you are being too hard on yourself, this Symbol implies that you need to know when to stop, rest and recuperate. Regardless of how much one has to do, it's no crime to stop to regain your strength. You needn't sacrifice your opportunity to rest for someone else. Everyone is entitled to their share of peace and pleasure. How about lounging around and taking it easy for a change? Sometimes you need a chance to day dream. On the other hand, have you been slacking off and not getting into what you could be doing?
………………………………………………………..***************

And then there's Saturn, old "Father Time," locked into a months long Square with his
mythological brother, Neptune, Lord of The Deep.

Saturn symbolizes: Authority, rules, discipline and obligation.  The heavy stuff.  What we fear, loss, karma, aging, the establishment, orthodoxy, tradition, status, the concept of time, walls, boundaries, limits, older people, restrictions, patience, conquering difficulties.
Saturn is on Sagittarius 11: IN THE LEFT SECTION OF AN ARCHAIC TEMPLE, A LAMP BURNS IN A CONTAINER SHAPED LIKE A HUMAN BODY
This Symbol implies seeing the body as being ones "Temple"; something to be honored and given respect, exercise and good nutrition. It also pictures linking the spirit and the body. Logic is not always involved in this equation – this mostly speaks of emotions, spirit and physicality. Sometimes we need to remember to be 'in our bodies' and this shows the rewards that can come from regarding our body as our temple. There's a need to sleep and exercise when we need to, to eat when we need to; to be alive and happy. However, if taken too seriously, one can forget to nourish their mind, preferring to concentrate on physical attributes and forgetting about other possibilities.
The Quest Degree for Saturn is Sagittarius 12: A FLAG THAT TURNS INTO AN EAGLE; THE EAGLE INTO A CHANTICLEER SALUTING THE DAWN
This Symbol shows being able to proclaim one's feelings, beliefs, love of country or political opinions, without feeling they are likely to be criticized, shot down or dismissed.  Our highest ideals can be expressed proudly, like "A Flag" and as an expression of spiritual purity – "The Eagle" at "Dawn."  You may find that you are regularly moved to burst forth with your ideas, giving voice to what you think and feel.  However, some may not like the message or what you have to say, how you say it or where you say it.  However, issues that are really worthwhile and 'centered' will be seen by many and heard in the clear light of day.
………………………………………………………..***************

Neptune symbolizes: Mystical, "out there," spirituality and con artists. Dreams, mysteries, mystics and religious issues. Intuition, clairvoyance, seeing into the invisible. Addictive, chaotic, charming, deceptive, illusory, co dependent, sensory awareness.
Neptune is on Pisces 8: A GIRL BLOWING A BUGLE
This shows sounding the call, rallying people together, knowing when to speak or "Blow a Bugle" to awaken others, to wake up to realities going on in the world, join some cause, etc. Perhaps you feel the need to wake up those around you, or, perhaps be woken yourself. When situations get bogged down in emotional or rational complexity and everyone just needs to be rallying and going for the objective, you may be the one to let everyone know. Sometimes this Symbol can show someone who makes a lot of noise; justified or unjustified and they can get people moving. Using simple, receptive innocence will get situations back on track.
The Quest Degree for Neptune is Pisces 9: THE RACE BEGINS: INTENT ON OUTDISTANCING HIS RIVALS, A JOCKEY SPURS HIS HORSE TO GREAT SPEED
This shows spurring to action when you need to, to rise to occasions that call for a sense of urgency or speed. Perhaps it's time to extract all the energy possible into situations. The "Race" is on, and you may feel that you can make it to the finish, but still are not guaranteed of victory. What efforts do you expend to push you faster and further than the rest of the field? Ensure that you're not expending all your energy too quickly and not really achieving anything of lasting value. Be wary of bolting out of the gate without knowing what your objective is. Needing to win at all costs can have others feeling like you're not really 'in the race' – just wanting to win.
………………………………………………………..***************
Finally, there's Pluto, that small by all important rear edge of a ship's rudder,
steering the whole show.
Pluto is on Capricorn 15: IN A HOSPITAL, THE CHILDREN'S WARD IS FILLED WITH TOYS
This Symbol shows the need to heal, calm, soothe and repair the lives of those who need your help, comfort and shelter. In times of healing there's simple pleasures to raise the spirits, whether it's of "Children" or people of any age. The "Toys" in the "Hospital" can be healing tools of any kind – it doesn't matter what type or modality; if they bring relief and joy to someone's life, they fill a need. There is also a need for caring shows of affectionate concern. Simple things done in times of healing can bring great relief to all. Sometimes it's a smile, a special treat or soothing words of encouragement these are more healing than one can imagine.
The Quest Degree for Pluto is Capricorn 16: SCHOOL GROUNDS FILLED WITH BOYS AND GIRLS IN GYMNASIUM SUITS
This degree shows being vibrant and alive and in the physical body with enthusiasm and excitement about life and the future. The "Gymnasium Suits" shows the need to get active and to stay active, to have time in your life to drop into the physical body and enjoy it. If you've been neglecting your physical well-being, it is good to reestablish that affinity with your vitality. Spontaneous enthusiasm and the joy of being 'alive' can regenerate and revive and bring about carefree contact with like minded people. The trick is to bring some form of physical discipline into your life while enjoying it and not feeling forced to do what you don't want to do.
………………………………………………………..***************
And there we have it, boys and girls.  Just as the Sabians spoke at the 2015 Winter Solstice.
__________________________________________________________
(1)  A planet is said to be unaspected when it is not connected to any other planet (typically shown on a chart by one or more colored lines) by any of the major aspects.  The most important of these aspects are the Conjunction (0°), Opposition (80°), Trine (120°) and Sextile (60°).
………………………………………………………………………………………………………………………………………………..