Eileen Evermore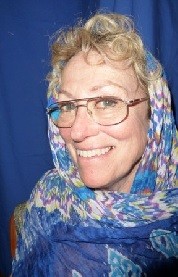 Eileen Evermore completed two degrees and two lifetime teaching credentials at UCLA, a BA cum laude in English, 1965, a Lifetime Secondary Teaching Credential in English, 1966 and an MA in English and Lifetime Community College Teaching Credential, 1968.  Eileen also earned tenure in two school districts, Los Angeles City School District in 1969 and at Citrus Community College District in 1972.
Though she was a successful student and teacher, in her heart, she always wanted to be a commercial artist.   And so, throughout her lifetime, whatever else she was doing, she devoted a generous measure of her "free" time to experiment with many different artistic media, including: water color, acrylic, pen & ink, graphite, macramé, three dimensional fabric, and embroidery.
At the beginning of her first Saturn Return, circa 1970, she discovered jewelry making and the I Ching, The Chinese Book of Changes.  She knew immediately that this was not a coincidental or accidental pairing.  Each discipline had an immediate magnetic  appeal, and she  soon discovered that  they worked harmoniously and synergetically to balance her body, mind, and spirit.
In 1972, she quit teaching, enrolled in The Gem Institute of America in Santa Monica, graduated in  Jewelry Making and Design, and became a self-employed custom goldsmith and diamond setter.  At the same time, she began to journal the I Ching.  Thus began a daily ritual of meditation—communing with Spirit—and using that wisdom to be a conscious choice maker, to live in the eternal now, to act in harmony with the natural ebb and flow of life, and to be in service.
After more than forty years of practice and study, she feels called to share what she has learned from the  I Ching.  Her mantra is, "I am a Divine conduit for transforming the quality of other people's lives."
She invites you to stop by her Facebook Page and/or to drop her an e-mail request for an I Ching reading.
You can find Eileen's posts under the Blog Theme The I Ching:
An Introduction
A Manual for Self-Fulfillment
The Magic in the Mundane