Linda Keen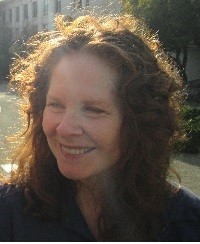 Linda Keen, the author of John Lennon in Heaven: Crossing the Borderlines of Being, but before she took pen to hand for that work, she and her former husband founded Mens & Intuitie, which became one of the largest schools for energy awareness, intuitive healing, and psychic reading in the Netherlands.  The Intuitie continues today under the stewardship of graduates of the school who keep the spirit of this institution alive.
In the mid-1990's she was featured as an author on national television and radio (including NPR's "All Things Considered") in the USA.  Linda has also and has written six published books, two of them for young children.  She has recently completed a soon-to-be published young adult novel entitled "The Dream Keepers: A Story of Family, Friendship, and Self-Knowledge, Inspired by the Poetry of Langston Hughes."
A few months before graduation from UC Davis, Linda – having stopped off at the campus coffee house – witnessed the most astonishing toe-tapping violin style she had ever heard, performed by "string band" musicians from the San Francisco Bay Area. In no time, she had cast aside her plans for an advanced degree in anthropology and, headed for Berkeley which was, among other things, a veritable hotspot for old-time American and Celtic fiddling.  It became a life-long interest and spurred her to public performances of the genre.
Stepping Stone, a group grounded in Irish and Americana roots, was founded in June of 2012, is a dream unfolding as Linda and her band members pay homage to the precious gifts of older musical traditions and to the industrious and magical people who were successful in keeping them well and alive.
In the spring of 1977, on her way to Ireland, Linda stopped off in the Netherlands for what she believed would be a couple of weeks, but the short visit turned into sixteen years. With her Dutch-born husband and four children. Linda and  family eventually emigrated from the Netherlands to Oregon in 1993 and later to her adopted hometown of Sacramento in 1998 where she has since remained.
Linda has four grown children and throughout the years, she discovered how a large family could provide her with the constant challenge of bringing spiritual understanding into daily routine.  She considers this challenge to be the most essential aspect of existence — especially in relation to her healing work, her writing and music.  Integration of all that we know and can accomplish remains her missions.
Linda's favorite quote is by Dr. Seuss, who shares the same birthday as Linda (March 2nd): "Be who you are and say what you feel, because those who mind don't matter and those who matter don't mind."