Vicki Howie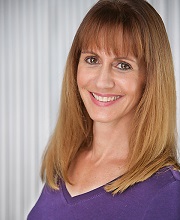 Vicki Howie's passion in life is to help you expand into your highest potential as a physical-spiritual being.  To accomplish this, she has dedicated herself to years of intensive study in yoga (ERYT), energy healing (Certified Sitha Healer), hypnotherapy (Master CHt), Neuro-Linguistic Programming (Master Practitioner) and Behavior Communications (M.A.).
She is overjoyed that her life work entails helping you be the most you can be and she loves sharing her motto for balanced living.  Visit her beautiful website at chakraboosters.com
Her natural and learned abilities as an energy healer allow her to help you shift into a higher vibratory state that calls forth more success in every area of your life — from fulfilling love and sexuality, to vibrant health, unlimited wealth, and more.
She holds a Master's Degree in Behavioral Communications, and understands how to work with your conscious mind, but more importantly, she also knows amazing, tried-and-true techniques for how to deal with the real driver of human behavior – your subconscious mind.
Vicki's extensive background as a yoga teacher (over 1000 hours of Advanced Teacher Training alone!) gives her a deep, bio-energetic understanding of your chakras and the knowledge to help you expand into your most vibrant Self.  See her "Chakra Abundance" page to access her free audio give away page.
Vicki's big-hearted vision makes her a true energy-healing pioneer.  She is the creator of an incredible new, energy-healing product – Chakra Booster Healing Tattoos™ – which have been used enthusiastically all over the globe.
You can find Vicki's posts under the Blog Theme The Chakras:
Introduction to the Chakras
FAQs about the Chakras
A Color-Coded Chakra Chart
Your Aura and the Chakras
Also from Vicki:   6 Excuses Your Ego Makes To Sabotage Your Spiritual Growth