Jan Lundquist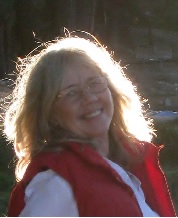 Though she may appear to be physically present, Jan Lundquist, wife to her beloved Other, Johnny Mirehiel, and co-editor of The Harmonic Concordance Blog, actually lives in the liminal world shared by creators, dreamers, mystics, and healers.  Out of that world she has crafted life experiences extending from her youth in Southern Mississippi, to participation in early US Navy computer systems R&D, to helping birth the global ceremonies celebrating The Harmonic Concordance.  At the present time, she uses The Field Surveys, her column for this blog, to focus on whatever takes her fancy as she researches the human consciousness experience.
A woman of wide interests and a former university professor, Jan continues to teach through participation in a variety of online communities.  Her current occupations, other than writing and BEing, include using the Quantum Infiniti Biofeedback System as a healing aid for friends and loved ones, and employing her skills as a story editor to help new writers learn their craft.
Jan believes that our development in this world is constrained only by the scope of the stories we are able to construct.  For this reason, her short and free e-book, Riders on the Rez, a retelling of the Native American Spiderwoman myth as experienced by an 8 year old Navajo skateboarder, is offered as a giveback to the Great Spirit which infuses all narratives.
Aho, Mitakuye Oyasin!
You can find Jan's posts under the Blog Theme (Science) The Field Surveys
Rethinking Learning
Frequencies and The Field 
The Noosphere 
Cultivating the Field
Field Medicine and White Crows
The World Needs More Popes
Brainwaves, Neurofeedback and Meditation