Valerie Eagle Heart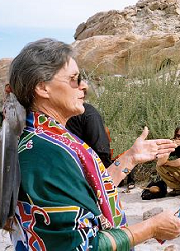 Valerie Eagle Heart is a ceremonial leader, teacher, dancer and artist. Her Teachers have come from many and varied Paths beginning in 1977 and she incorporates what has "worked" for her in all she shares with The People.
Eagle Heart facilitates a Women's Teaching Lodge Circle; Sits the Drum with the Rainbow's End Song & Drum Circle and initiated the work of the Grandmothers' Council at Rainbow's End. She also offers various workshops and gatherings; facilitates Women's Retreats and leads Prayer Dances at Rainbow's End on the beautiful High Desert near Joshua Tree National Park in Southern California.  E-mail Valerie.

Valerie is also one of 3 Women who are in partnership in a very unique and eclectic gift shop in Old Town Yucca Valley, California, where classes, workshops, massage, Reiki and reflexology are offered in addition to "Gifts for All the People to Feed the Mind & Spirit." http://rainbowstew4u.com.  
You can find Valerie's posts under the Blog Theme Medicine Ways:
Finding The Way
An Invitation to Dance
Year End Reflections
Fussy Moments
Surrender
Entering the Cave
Walking Our Talk
Autumn in My Heart
The Fluffy Stuff